Carrying a lunch box in outdoor camping allows us to better experience the fun of outdoor camping cooking. Think about breathing fresh air outdoors and enjoying the food with a lunch box after outdoor camping cooking. What a wonderful experience! Today, Shuanghe teaches you how to choose an outdoor camping lunch box and recommends two products.
1. Stainless steel material
Lunch boxes without materials are suitable for different occasions. For outdoor camping lunch boxes, they must meet the requirements of high-temperature resistance, stable chemical properties, and easy cleaning. Because when you go camping outdoors, the lunch box must be used to hold the food just out of the pot. The surface temperature of the food just out of the pot is high, and you must clean it after the meal, otherwise, you can take it home and clean the lunch box. If it is lost, the lunch box needs to be stored in the bag for a long time during the camping process, so the material must be stable. Therefore, the outdoor camping lunch box must be resistant to high temperature, stable in chemical properties, and easy to clean. The stainless steel lunch box just meets the above requirements.
2. Portable
The first requirement for outdoor camping supplies is to be portable. Therefore, it is necessary to choose some lunch boxes with a portable design such as a folding design. Most of the stainless steel lunch boxes adopt a portable design such as a folding and a handle, which is a good choice.
3. Poor thermal conductivity
Only the lunch box with poor thermal conductivity can hold the food that has just come out of the pot and can be picked up immediately, so you should not worry about problems such as hot hands. The thermal conductivity of stainless steel is relatively poor at room temperature, so the thermal conductivity of stainless steel lunch boxes is poor.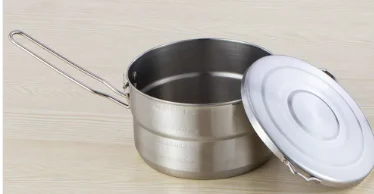 Shuanghe Round Lunch Box is an environmentally friendly stainless steel lunch box with a capacity of 1.5L, which can be used to hold meals or be heated directly on various stoves. This lunch box adopts a folding design to save space. The half-ring handles on both sides are convenient for opening the lid and preventing burns. It is intimate and safe!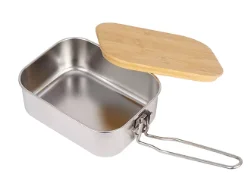 Shuanghe Bamboo Wood Lid Lunch Box is a stainless steel leak-proof lunch box, but the lid is made of bamboo wood. The bamboo and wood lid can not only be used as the lid of the lunch box, but also as a chopping board when cooking outdoors. This lunch box is designed with a folding handle with a lock, which is not only portable but also effectively leak-proof.